Priscylla Brasileiro / The JollyJoy Team - 14 / Aug / 2017
Picnic with Peter Pan & Tinker Bell – Biel's & Babi's 3rd Birthday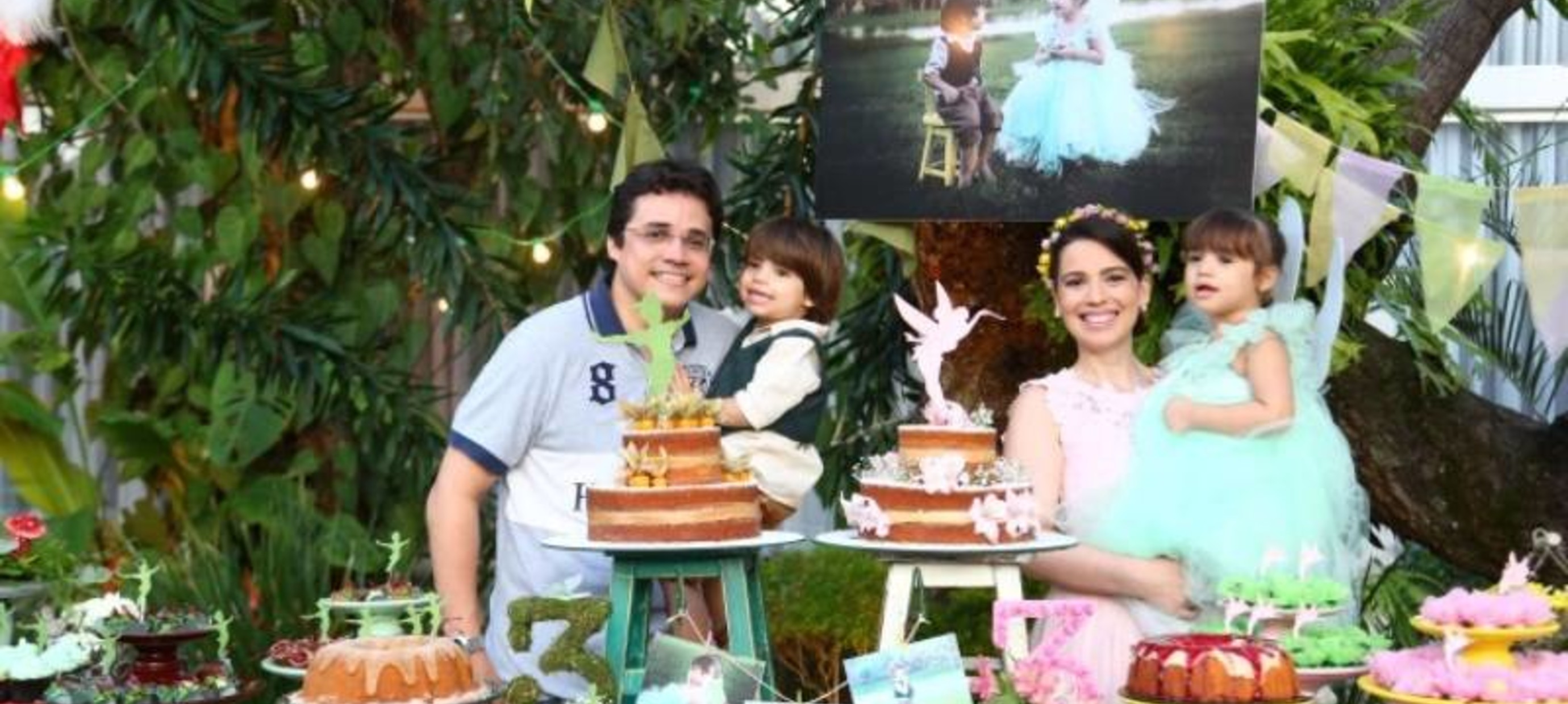 Hello!!!
Today I bring you the wonderful 3rd birthday of my boy and girl twins, Biel & Babi. I am so emotional that I don't know where to start… But let's try.
Everybody knows that I love parties. Since I discovered I was pregnant with boy and girl twins, I have been searching for common themes for them, and I found several lovely ones like Mary & Joseph (theme of their 1st birthday party), Mickey & Minnie (theme of their 2nd birthday party) and Peter Pan and Tinker Bell for their 3rd birthday party. By the grace of God, Babi loves Tinker Bell and Biel enjoys the Peter Pan stories. Having the party in a garden would be ideal for this theme, and to make it even more childlike, fun and different, I thought of putting on a Picnic with these characters, since I wanted something beautiful and dedicated to kids without a superhuman effort.
The party's visual and ceremonial identity is the starting point for everything. So I looked for somewhere that had a beautiful tree to place the table with cakes and little fairies hanging from it that would be the ideal location for this wonderful open-air Picnic. I wanted people sitting on blankets and cushions placed on the grass, kids running around barefoot, painting pictures and reading books, and that was exactly what happened at the party. We served only Picnic delicacies like hot dogs, mini sandwiches, crêpes, popcorn, mini quiches, fruit and meat skewers, and delicious drinks like Pink Lemonade. And it was a roaring SUCCESS!!! Everybody loved the food and the buffet service, which had waiters serving the drinks and a table full of delights.
The Picnic didn't lack ice lollies, popsicles or ice pops (I don't know you call them in your city), recalling my childhood memories. There were lots of lollipops and mini-lollipops. I love the mini-lollipops, because they are the perfect size for kids' stomachs. Other delicacies at the Picnic were churros and candy floss.
To make everything perfect I needed a decorator who could work with this style of a party. The ones I looked for here in Fortaleza already had a party booked for the date of my twins' birthday, but then the lovely Fabiane Mota introduced me to her dear friend Silvia Roveri from São Paulo via Whatsapp. Silvia had a trip planned to Fortaleza on the twins' birthday and she accepted the challenge. There were months of Whatapps conversations, and what lovely conversations they were. We saw that we spoke the same language, hehe… We had the same ideas, we liked the same things, and so it was really nice to work together.
This was a challenge, because Silvia didn't know anything here. She didn't know where to find items like ribbons, bottles, dolls, glue or other simple things. But thanks to all the partners involved in this project she managed to make beautiful decorations, rich in details, with everything that I wanted and imagined. It was a real success. She, along with her friend Fabiana, responsible for the party's Floral Design, even added Peter Pan and Tinker Bell playhouses that boosted the party and amused the children.
To beautify the décor still further, the main cakes were gorgeous Naked Cakes combined with cake toppers. We had two secondary cakes: one for each table, since Biel and Babi each had their own table, with Peter Pan and Tinker Bell toppers. We had delicious chocolates and gourmet brigadeiros, in little boxes shaped as Peter Pan's hat and Tinker Bell's flowers. The Peter Pan's hat-shaped macarons were successful, as were the cupcakes.
To excite the kids, we had lots of music and games, storytelling with Pepper Doll and recreation. Peter Pan & Tinker Bell characters welcomed people to party.
We printed the photos, which were taken professionally, for the cord and the cake table on PVC. In the suppliers' booklet, I found the party souvenirs: colouring books with the wooden pencils that I bought on the internet and the stickers from the mothers' souvenirs.
When they arrived at the party, the children received little plastic bottles for juice and the parents received a bottle of insect repellent. The latter also gave off a delicious Home Spray fragrance, which was the mothers' souvenir.
After singing happy birthday, there was a little cinema session featuring the original Peter Pan film.
Observe how instead of balloons, dear Silvia Roveri used windmills and bunting, since neither balloons nor personalized gifts fit in with this type of party and thus weren't used.
Three kisses!!!
By Priscylla Brasileiro
Jollyjoy Team